Select a button that best reflects how you currently pay your bill. Not sure of your payment method? Contact our customer service team at 616.355.1500 or customerservice@hollandbpw.com for assistance.

**Please note that our MyHBPW mobile application is currently undergoing updates to improve user experience and is not accepting payments at this time. In the meantime, please use the website, phone or in-person services for payment.**
Who? I am currently enrolled in credit-card autopayment and pay credit card fees. Payments are automatically charged to my credit card each month.
What? For your security, our new payment processor will not import your credit card information from our previous system. In order to continue your credit card automatic payments without fees, you must re-enroll your credit card or other preferred payment method. Otherwise after November 1st, your automatic payments will no longer process.
Next Steps: Re-enroll for autopay.
Log in to your MyHBPW account here. We recommend using Chrome or Edge as your browser.

In the top menu, select "Billing".

Using the menu on the left, select "Auto Pay".

Click "Add Schedule", select the account you'd like to pay.

Add payment method(s) to your wallet and select.

Confirm details (default payment is your bill's due date and bill amount).

Select "Create AutoPay".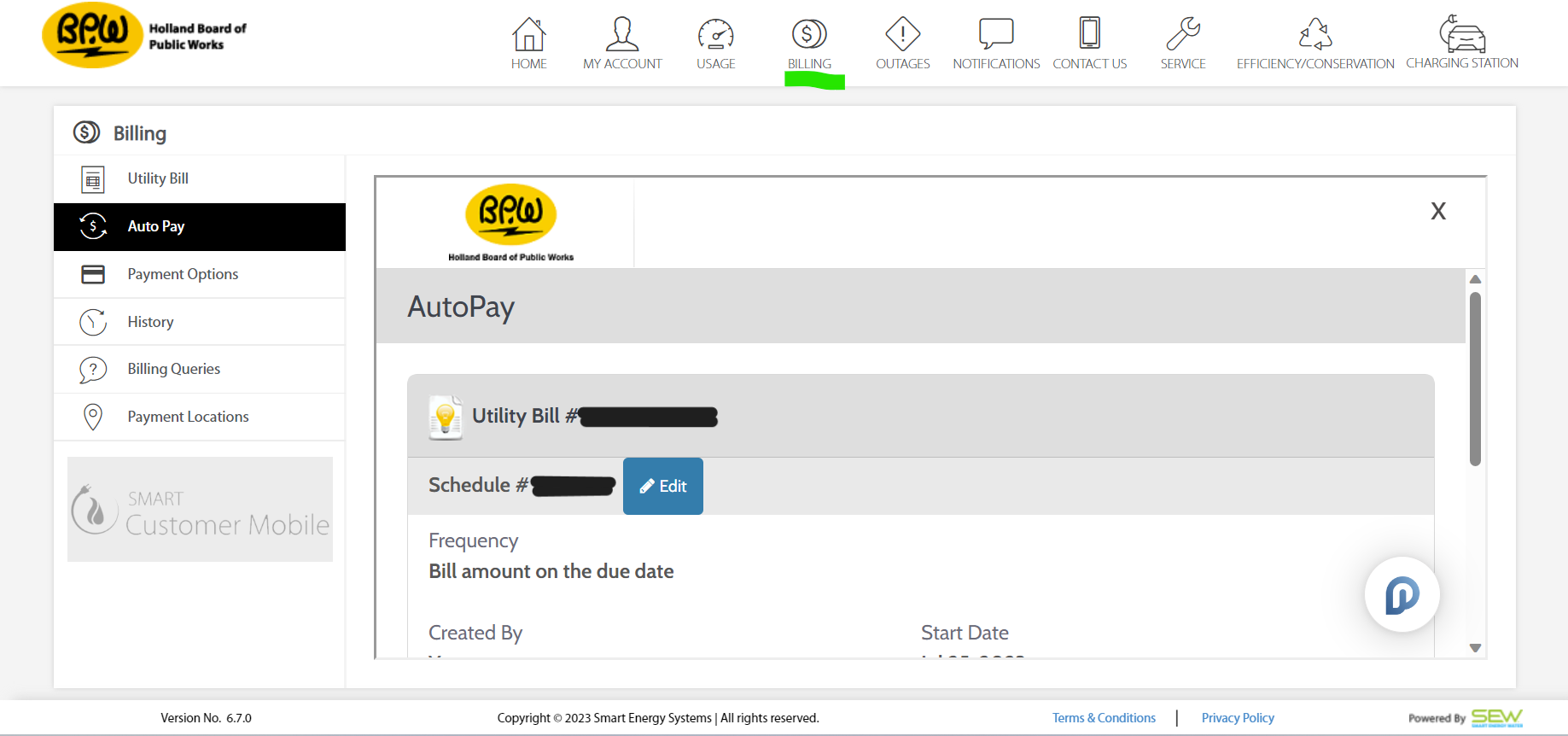 Bank Account Direct Payment
Who? I am currently enrolled in direct payment through Holland BPW. Payments are automatically pulled from my checking or savings account each month. I do not pay debit or credit card fees as part of my payment.
What? No action is required at this time. Billed amounts will continue to pull without fees. If you would like to change your payment method, click here.
Next Steps: I want to change my payment method
To stop future automatic payments through your bank account, you must notify Holland BPW in writing.

Email customer service (customerservice@hollandbpw.com), visit the Service Center during business hours or mail a letter to provide written notice.

In your notice, please provide your name, account number and your intent to stop future automatic bank payments. Please provide 3 business days to process your request.

Once you have provided notice, you can add new payment options for one-time or auto payment. Click here to jump to directions for adding new payment options.
Who? I currently pay through a physical check, cash or online payment.
What? Check, cash, phone and online payments are all still accepted. Users will notice additional payment options are now available for online payments, all without credit or convenience fees. Payments may be made on a one-time basis without a login, or payment methods may be saved for future use using MyHBPW Portal.
Next Steps: I want to add new payment methods.
Log in to your MyHBPW account. We recommend using Chrome or Edge as your browser.

Select "My Account" in the main menu.

On the My Account page, click "Payment Information" in the left hand menu.

Select "Add Payment Method" and enter your information, and click "Add".