Understanding My Utility Bill | MyHBPW Account Portal FAQ's | Sign Up for Notifications | Sign Up for Paperless Billing
---
Understanding My Utility Bill
Definitions of the terms used on your Holland BPW bill.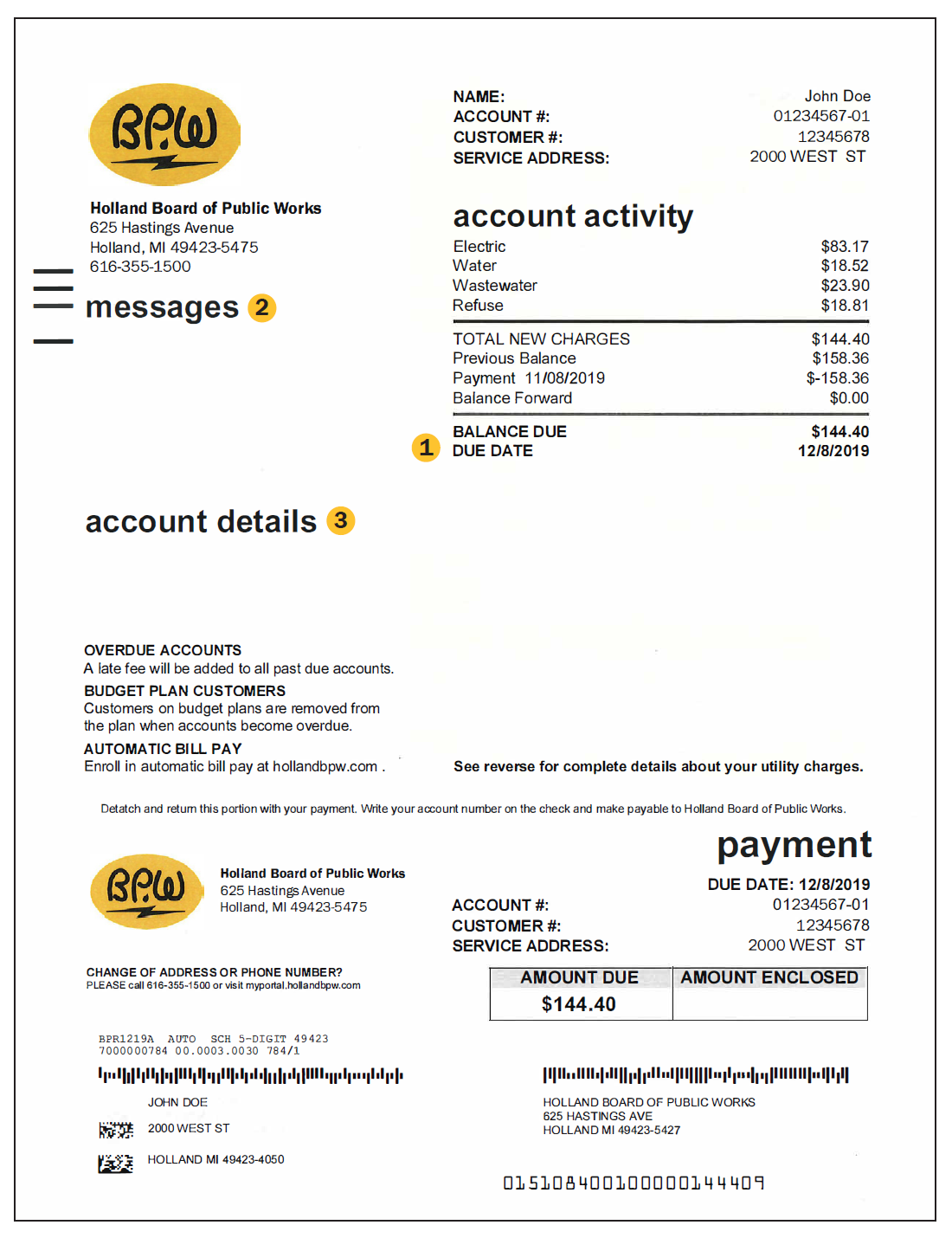 - FRONT PAGE -
Due Date - The date your bill must be paid before any penalties are added.


Messages - This area includes information of Holland BPW services and activities the HBPW participates in.


Account Details - This area includes information specific to your individual account.




- BACK PAGE -

Energy Charge - The electric current that is generated, produced and provided to you.


Rate EAR - Electric Residential Rate A


Delivery Charge - The cost of transmission and distribution which moves electricity from the power plant to local substations, and to your point of service. Electricity leaves the transmission lines at the substation where transformers reduce the voltage. Electricity then travels through distributions lines on poles or underground to neighborhoods. Finally, electricity passes through a meter to measure use in kilowatt-hour units that appear on your electric bill.


Readiness to Serve Charge - A monthly fixed charge that covers the expenses to maintain and service a customer's account. This includes billing, metering and customer service. The Readiness to Serve charge also funds a portion of the capital investments in equipment, structures and meters as well as engineering and construction services.


Energy Optimization Charge - In 2008, the State of Michigan passed PA 295, directing electric providers to establish energy optimization plans and programs. This charge, as mandated, covers the cost of energy-efficiency programs.


Billing Days - The period of time for which your usage is being billed.


kWh - Stands for kilowatt-hour. One kWh is a measure of production. For example, a 1,000 watt window unit air conditioner turned on for 1 hour will use 1 kWh (1,000 watts x 1 hour).


Usage History Graphs - Display of your previous usage electric and water/wastewater for the past 13 months.


Meter Readings - Shows what the meter reading was for the Service Period for the present and previous dates.


CCF - Hundred Cubic Feet. The unit of measure for billing water and wastewater. One Hundred Cubic Feet equals 748 Gallons.
pdf Understanding Your Utility Bill (680 KB)
---
MyHBPW Account Portal FAQ's
What is MyHBPW?
MyHBPW is a secure customer account access portal that provides a simple way to manage your Holland Board of Public Works accounts.
---

How do I get to MyHBPW?
Access your customer account online at myportal.hollandbpw.com.
OR, download the app by searching MyHBPW in the Apple App Store or Google Play Store.
---

How do I register for MyHBPW?
In this video, you will learn how to register for the MyHBPW customer portal.
Register Online
To register, you need:
Account Number - Found at the top left corner of your bill. Enter your account number exactly as it is shown on your bill.
Service Zip Code - Service Zip Code is the Zip Code where service is being provided.
Email Address - Use your primary email address. You will receive your account activation link to the email address that you use.
---

I already pay my HBPW bill online. Why should I register for MyHBPW?
MyHBPW is a new and improved online customer account service and mobile application. We will soon be discontinuing the previous service.
With the new customer portal, you will be able to access the following, all in one platform:
View and pay your utility bill from you mobile device.
Receive real-time notifications when an outage occurs.
Connect with customer support for service requests.
Monitor usage and compare to previous time periods to identify trends.
And more!
---

How do I sign up for notifications from Holland BPW?
Setting notification preferences lets us know how and when you want to hear from us. Holland BPW offers a number of convenient ways to receive information from us. You can customize the type of notifications and how you would like to receive them in the MyHBPW customer portal.
In this video, you will learn how to set notification preferences in MyHBPW.
Variety of ways you can hear from us:
Text message
Email
Push Notifications
Types of notifications available:
Outages
High usage alerts
Billing
Helpful tips and information about our programs
---

How do I sign up for paperless billing or make changes to my billing preferences from Holland BPW?
You can choose how to receive your utility bill from Holland BPW.
Paperless billing is good for the environment and delivered conveniently to your email inbox.
Paper bills are mailed to your address.

How do I reset my password for MyHBPW?
You can reset your password, retrieve your user name from the login box for MyHBPW - https://myportal.hollandbpw.com/.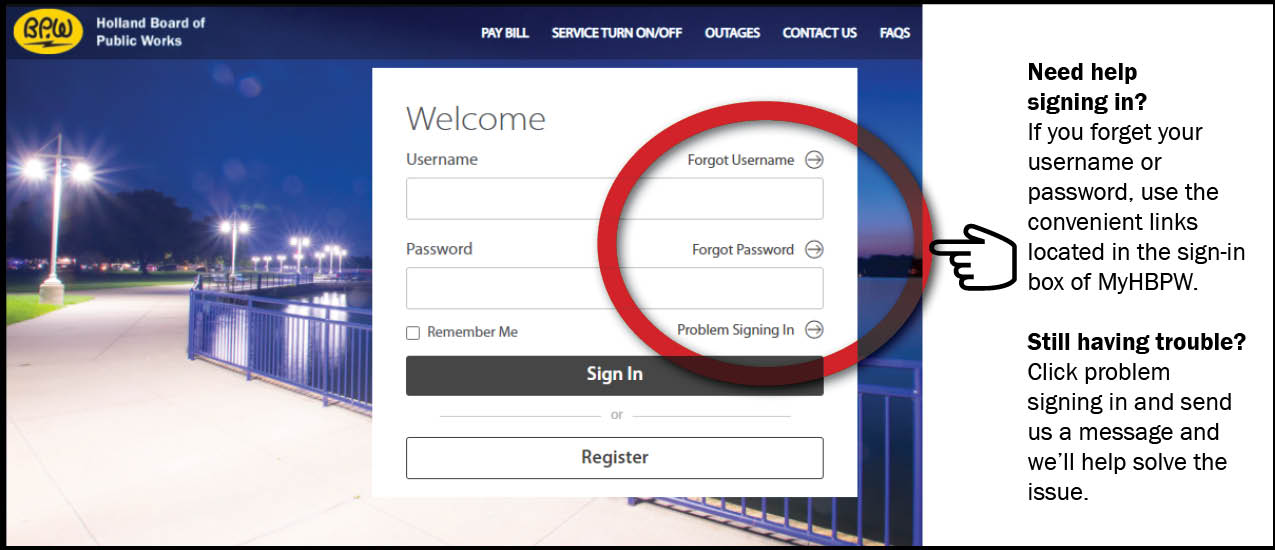 Do I need to be logged in and registered with MyHBPW to pay my bill online?
No, you do not need to have a MyHBPW account or to be logged in to pay your Holland BPW bill online - Make a One Time Payment.