Holland Board of Public Works' Energy Smart Program is a portfolio of energy efficiency resources and incentives designed to help Residential, Commercial and Industrial electric customers use energy wisely. Benefits of participating include saving money, cleaner air, business vitality and better quality of life.

---
Energy Smart Trade Ally Program for Contractors
If you are a contractor who would like to enhance your business by helping your customers save energy and money, register in our Energy Smart Trade Ally program. You'll learn about our savings programs and gain valuable information to help your customers make energy-saving improvements – a tangible way to show your 'green' know-how and make it easy for them to take advantage of savings opportunities!
This email address is being protected from spambots. You need JavaScript enabled to view it.

Contact:

This email address is being protected from spambots. You need JavaScript enabled to view it.

| 616.355.1662
---
Need a Contractor? Request Our List of Energy Smart Trade Allies
Are interested in saving energy and money? Holland BPW's Trady Ally Contractors can help you make energy efficient product choices and connect you with all of our Energy Smart rebates programs.
Request the list by calling 616.355.1662 or email This email address is being protected from spambots. You need JavaScript enabled to view it..
---
Conservation & Safety Tips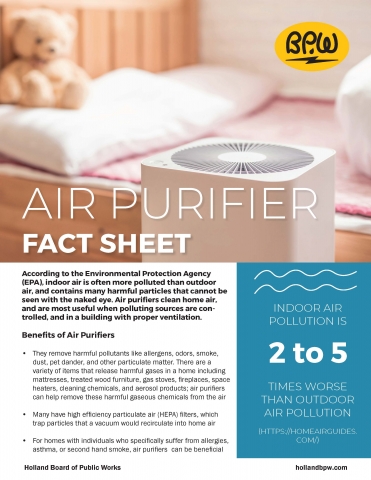 pdf LED Lights for Energy Efficiency (772 KB)
pdf Smart Power Strips for Energy Efficiency (583 KB)
pdf Dark Sky Friendly Lighting (733 KB)
pdf Space Heater Safety (559 KB)
pdf Air Purifier Fact Sheet (833 KB)
---
Resources
Energy Efficiency
www.energystar.gov - Great tips on how to save energy, information about energy efficiency tax credits and lists of ENERGY STAR® qualified products and programs.
www.nrel.gov - The National Renewable Energy Laboratory is the U.S. Department of Energy's primary national laboratory for renewable energy and energy efficiency research and development.
www.aceee.org - The American Council for an Energy-Efficient Economy (ACEEE) acts as a catalyst to advance energy efficiency policies, programs, technologies, investments, and behaviors. Visit their website to learn about energy policy, energy efficiency, how behavior affects efficiency, energy markets and more.
www.michigansaves.org - Michigan Saves is a nonprofit dedicated to making energy improvements easier for all Michigan energy consumers by providing up to $30,000 in financing for homeowners to make energy efficiency and renewable energy improvements.
www.hope.edu/sustainability-institute -Together the City of Holland, Hope College, and the Holland Board of Public Works developed the Sustainability Institute to support outreach, education, and practices geared toward creating a more sustainable community.


Green Loans and Energy Efficiency Tax Credits - Visit the linked web page for an overview from Rider University about Green Loans and Energy Efficiency Tax Credits.
---
Home Energy Evaluations and Financing
COVID-19 UPDATE - In response to social distancing recommendations from national, state and local officials, we are not scheduling in-home visits related to our efficiency programs at this time. We look forward to resuming these activities when health officials determine that the pandemic has past. This is a preventative measure to protect our community. We appreciate your patience and understanding.
Call 616.393.5610 - For an electric and water home efficiency check-up, HBPW offers a free 60-90 minute clipboard audit by a Building Performance Institute technician. The technician will evaluate your electricity and water use, and identify easy ways for you to save money on your utilities. He or she will also provide you with several free energy saving measures, such as LED light bulbs, a smart power strip, faucet aerators, and an LED nightlight. Please schedule an appointment.
www.hollandenergyfund.com - For a more comprehensive home energy evaluation and potential financing options available to Holland City residents. The Holland Energy Fund is a nonprofit corporation that supports the City of Holland's long-range Community Energy Plan. The Fund facilitates two programs in partnership with the City of Holland, HBPW and Michigan Saves.
---
Energy Data
www.eia.gov - If you are interested in energy and energy efficiency information, the U.S. Energy Information Administration provides independent statistics and analysis of U.S. and world energy data.
www.data.gov - The U.S. government's open data. Here you can find the data, tools, and resources to conduct research, develop web and mobile applications, and design data visualizations.
---
Natural Gas Efficiency Rebates
www.semcoenergygas.com - If you are planning on purchasing an energy efficient furnace, hot water heater, or an appliance that runs on natural gas, SEMCO ENERGY GAS COMPANY has rebates available.