Holland BPW is proud to announce that the anaerobic digester earned an ENVISION Gold rating for sustainability. ENVISION is a certification from the Institute for Sustainable Infrastructure. The ENVISION framework dives deep into the planning, construction, and life cycle of the project, ensuring that major infrastructure is sustainable and resilient, maximizing the benefits to the community. ENVISION is third-party verification that major projects consider environmental, social and economic impacts of civil infrastructure. "ENVISION goes beyond the basic efforts of project management and development, into areas that benefit the community in a holistic way," explained Dave Koster, Holland BPW General Manager. "Our goal is to bring as much value to those impacted by the project as possible."
The anaerobic digester is a 105 foot tall round structure located at the Holland Area Water Reclamation Facility (WRF) operated by Holland BPW. When the anaerobic digester begins operation in the fall of 2023, it will be used for solids reduction and biogas collection, treatment and cogeneration.
"Options for disposing of biosolids are increasingly difficult to find and the costs are raising. Anaerobic digestion allows us to address these challenges in a sustainable way," said Joel Davenport, HBPW Operations Manager. It is expected to reduce the amount of wastewater solids from the water reclamation process by approximately 50%.
"We are excited to announce that the Holland Area WRF Anaerobic Digester project has won an Envision Gold Award for sustainable infrastructure," said Melissa Peneycad, ISI's managing director. "HBPW and the project partners engaged with the community to ensure its needs and goals were understood and incorporated to the greatest extent possible, and the result is a transformative development for sustainability at the Holland Area WRF that will benefit the community for many years to come. Congratulations to the entire project team on the success of this project."
The primary scope of the project is the anaerobic digester facility, but there are also process improvements and modifications related to: the biogas utilization system; the recycle stream treatment process (with post-aerobic digester for ammonia removal); the biosolids thickening systems; odor control measures; and related site improvements.
Holland BPW demonstrates a continuous commitment to getting the best out of major infrastructure. This is the utility's second ENVISION rating. In 2016, Holland Energy Park was the first base load power generating plant to receive an ENVISON rating.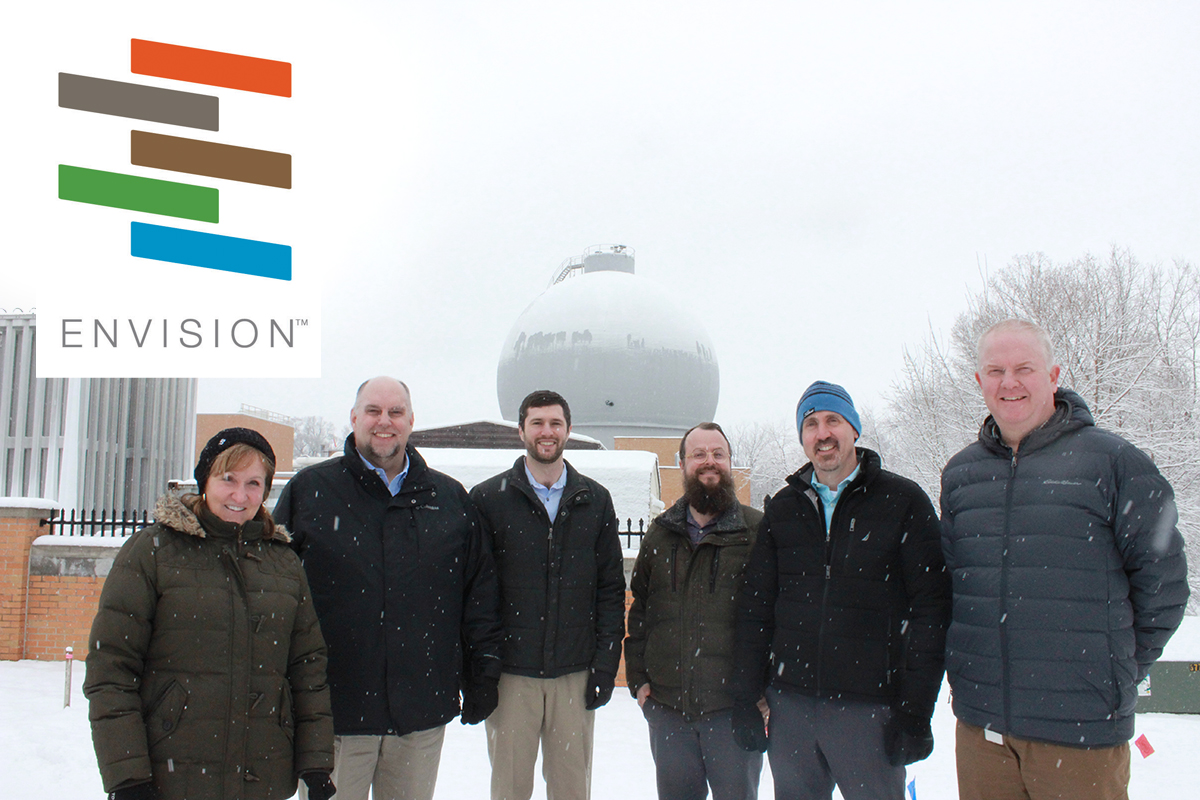 Pictured left to right: Chris Van Dokkumburg, Dave Koster, Sam Bender, Theo VanAken, Joel Davenport, Phil Leerar