20th & 21st Street Information
Maintaining the Holland BPW utility system is essential to the reliability of our services. Oftentimes crews are working in roads, which can be dangerous. We ask our community to help keep our team safe. When you see crews working, please take care to respect their work zones.
---
20th & 21st Street Reconstruction Project
When: Work begins March 23, 2020
Where: Cleveland from 19th to 21st Street
---
COVID-19 UPDATE:
The 20th/21st Project will continue, though in a modified way.

All work requiring entry into customer homes has been postponed for the time being to reduce potential health concerns and ensure un-interrupted utility services for the duration of the "Stay Home, Stay Safe" Executive Order 2020-21. The contractor will instead focus on components of the work that do not directly impact residents, and that are allowed under the Executive Order. This work will take place primarily in Cleveland St.

We appreciate your patience as we try to complete this work with minimal impacts to you.
---
Holland Board of Public Works will be reconstructing portions of Cleveland, 20th Street and 21st Street.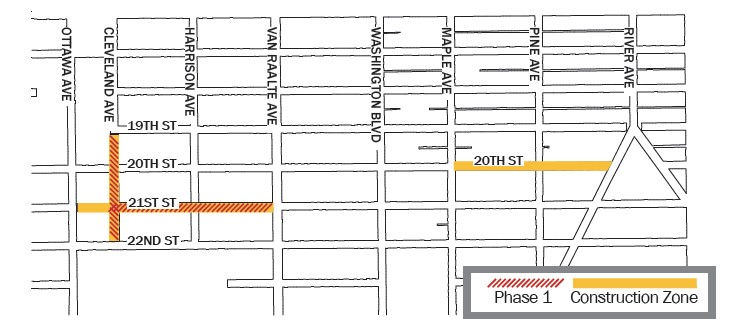 Cleveland will include new storm sewer installation.
20th Street will include water mains, storm sewer, concrete sidewalk, drive apporoaches, curbs and asphalt pavement.
21st Street will include new sewer mains, water mains, storm sewer, concrete sidewalk, drive apporoaches, curbs and asphalt pavement.
Work will be done in 2 phases
Phase 1 – Cleveland Ave and 21st; March 23 – July 15, 2020.
Phase 2 – 19th St between VanRaalte & Washington Ave. Work will not begin on Phase 1b until after the completion of the school year.
All dates are weather dependent and may be altered due to inclement weather, underground conditions found upon excavations, or other unforeseen circumstances.
Information for Residents
Our goal is to keep you informed and up-to-date about this project from start to finish.
Project Open House
Monday, March 30th, 6-7pm
Herrick District Library, Main Floor Meeting Room
300 S. River Ave.
Residents will generally have daily access to homes, except during immediate construction at home, including curing of concrete and paving.
Water shut offs are necessary for construction activities. Shutoffs will be shared with customers by orange door hangers with times of shut downs, a minimum of 24 hours in advance unless caused by an emergency.
Trash cans should be labeled with the house number, usually with tape. Trash pickup should continue as normal. The contractor may have to move trash cans.
Now is a good time to replace the remaining portion of the sanitary service lines if the line is in need of replacement. The City of Holland has a Home Repair program that residents might find helpful. [Learn More]
Footing drain sump pumps should be connected to the storm sewer. Now is a good time to connect these to the storm sewer. Please let project staff know if we need to accommodate your home.
Special Instructions
The Brenner Excavating will setup and maintain all barricades, signs and warning devices as deemed necessary to assure public safety. Contractor must follow guidelines for road closures or lane closures as set forth in the Michigan Manual of Uniform Traffic Devices.
On-Site Inspector - Doug Huges, OMM Engineering, 616.818.0394
HBPW Engineering Contact - Mark Gipson, Water/Wastewater Services, 616.355.1644
HBPW On-Site Contact - David Cyrus, Water/Wastewater Services, 616.355.1646
Brenner Excavating - Cheech Martinez, 616.218.0699
Sump or Drainage Concerns - Al Crocker, City of Holland, 616.928.2427