Holland BPW will begin replacing the water main and private side of galvanized water services along the 28th St and Wildwood. Construction began mid-June.
Areas near the school are expected to be completed by mid-August prior to the start of the school year. These streets include 28th St. from Ottawa Ave. to Van Raalte Ave.; Van Raalte Ave. from 29th St. to 27th St.; 27th St. from Van Raalte Ave. to Harrison Ave.; and Harrison Ave. from 27th St. to 28th St.
Construction for the remainder of the project will continue through the fall. These streets include Harrison Ave. from 28th St. to Wildwood Ave. and Cleveland Ave. from 28th St. to Fairhill Ct.
Road Closure Notice
Begins July 5 | Expected duration: 5-6 weeks.
Van Raalte Ave. will be closed between 29th/Wildwood Ave. and 27th St. Traffic will be detoured to Ottawa Ave. Only local traffic will be allowed; residents will be able to access their driveways.
Holland BPW appreciates your patience while we complete this important water main service replacement work.

Progress Updates
July 20, 2023 - 2,000 ft of water main has been installed along with sanitary lateral replacements. The water main is planned for testing later this week with water services being installed beginning 7/24.
Holland BPW Engineering Contact
Brian Richey
616-355-1641
As titled in the map below, this project is Phase 1 of multiple phases. The second phase includes Wildwood Drive between Van Raalte Avenue & Fairhill Court (less the intersection of Harrison & Wildwood). This phase is not yet planned for construction, but will most likely occur in 2024 or 2025. Additional phases of this project are not yet designed but will occur in the next 4-5 years. The overall project limits encompass the areas between Ottawa Avenue & Washington Avenue (including these streets) with north and south limits of 28th Street and 32nd Street, respectively.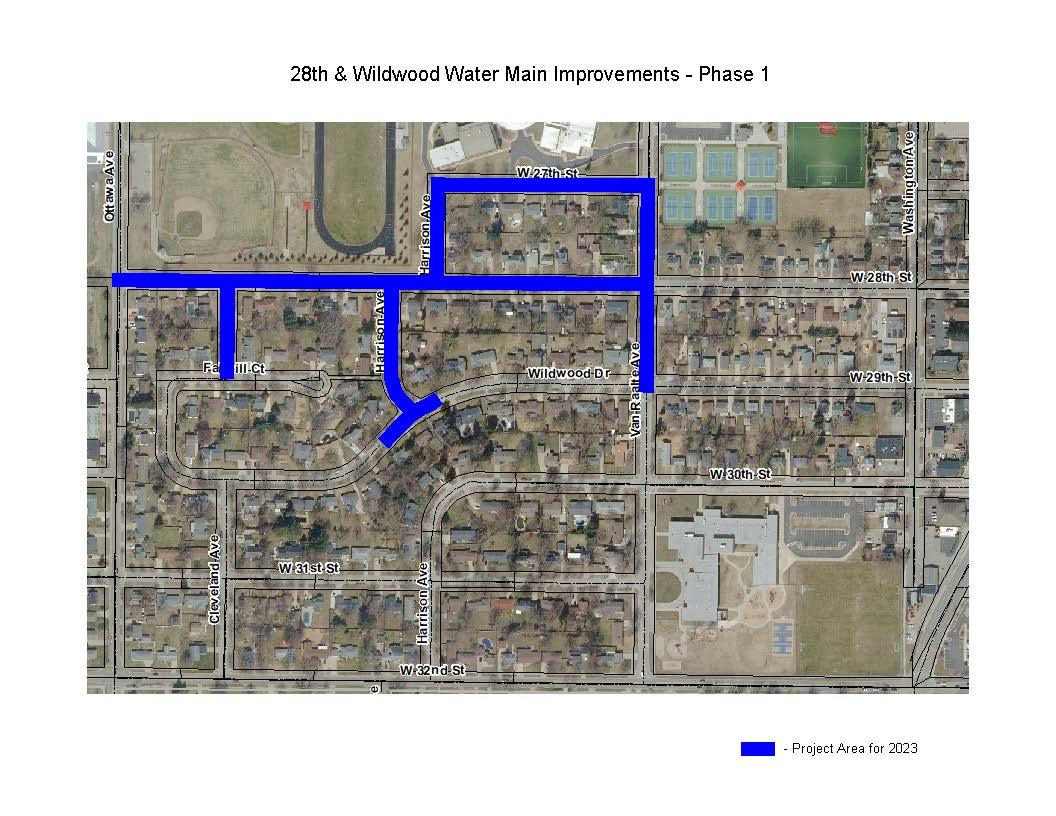 Frequently Asked Questions
Will my driveway be accessible?
Yes, driveways will be accessible with the exception of when the contractor is excavating the road in front of the driveway. In this case, the contractor should notify the affected resident such that they are able to park their car on the road and/or plan their day around this.


Is my trash going to be affected?

No. Holland BPW and City of Holland staff will work with the trash services to ensure trash pickup is not affected.

Will my water be shut off? If so, how long?

There will be certain periods of time when water is shut off, however, residents will receive a minimum of 24-hour notice when this is set to occur. Also, the shut-off period should not last longer than 3-4 hours.

Is the water safe to drink during the project time frame?

Yes. There may be a brief period of time after water services are connected to the new water main for which residents should plan to open a bathtub or large sink to drain any air out of their service line. This information will be relayed to any affected residents as the project goes forward.